Ash
Ash is a 10 year old kid from Pallet town. He really want's to the greatest pokemon master in the world. He is really annoying in my opinion but he has a lot of spirit and is very confident. Sometimes he doesn't addmit he's wrong because he is very stubborn and still very annoying!

Misty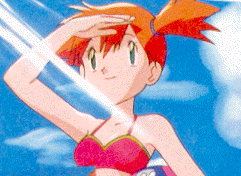 Misty is a water pokemon trainer and also is the gym leader of the Cerulean city gym. She is a little bit loud (as in earbusting!) and always fights with Ash. Some people for some strange reason think she likes Ash!! Seriously, I don't think that will happen. All in all she is really loud.

Brock

Brock is a rock pokemon trainer. Formally known as the Pewter city gym leader because his father came back and took his place. Girl crazy and well... girl crazy, Brock is well... girl crazy. That's all I can say about him, girl crazy! Oh! and he want's to be a breeder.